Wedding at the beach
For groups larger than 40 people we have a separate beach house next to our restaurant, which you can book for an exclusive wedding on the beach. And say for yourself... Celebrating your marriage with your toes curling in the sand, what more could you wish for? Celebrating your wedding in 'Hippie Fish style' will make it even more unforgettable. The relaxing atmosphere of the beach, the fireplace, the porch and the French doors opening towards the sea are the ideal ingredients for a great start and celebration of your marriage.
Would you like to know more or would you like to see it for yourself? Then fill out the form below and we'll contact you as soon as possible.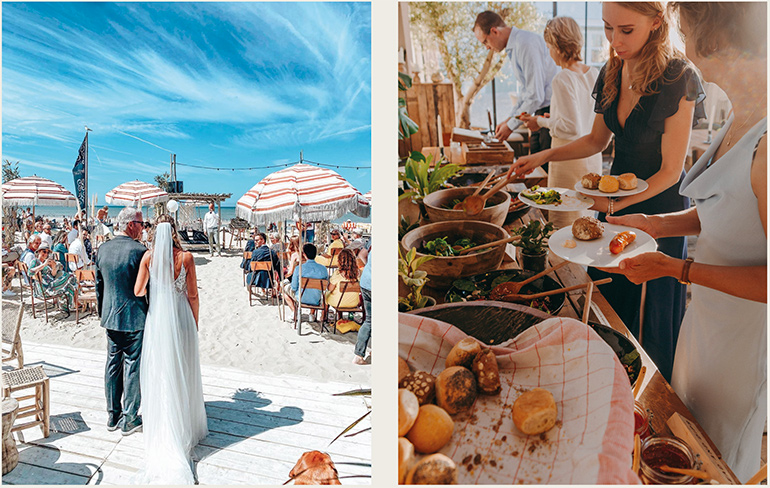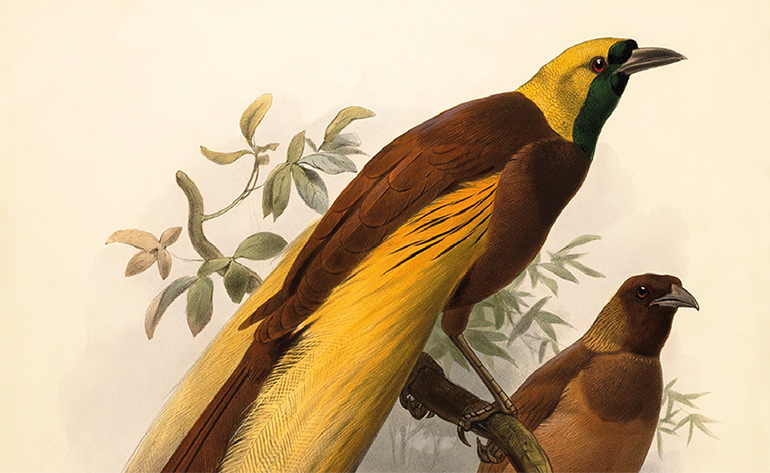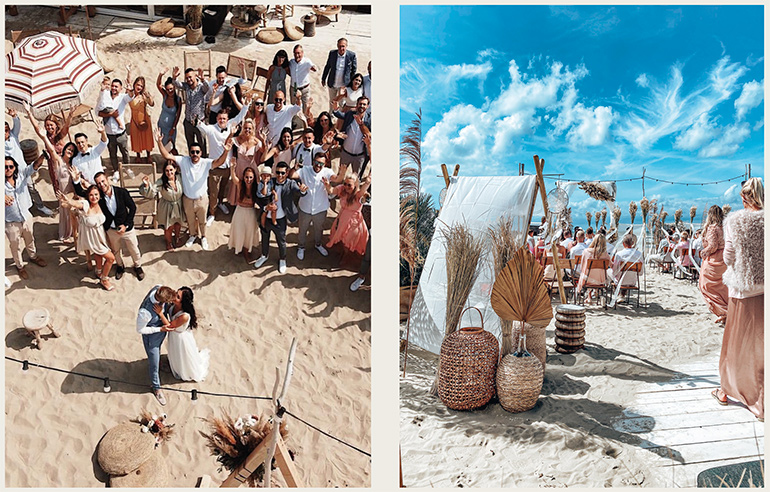 Your wedding day should be an unforgettable day. After you've said 'I do', it's time to get the party started. The Hippie Fish team will be over the moon, just like you two. One of the secrets is the fantastic atmosphere that you can only find on the beach. At the end of the day, when all memories have been made and shared, you secretly don't want to leave anymore. Slow down – stay a while.

Hippie Fish – the awesome crew!
Young, social, driven and creative. That's how we describe our beach boys & girls. We make sure you can forget about the world around you for a while. The unique and relaxing atmosphere at Hippie Fish is strengthened by the personal attention from our young and enthusiastic team who work swiftly and efficiently.

Hippie Fish's - fantastic wedding food & drinks
At Hippie Fish we like working with fresh and seasonal products. Choose for your wedding from the changing fish, meat and vegetarian meals. During the summer you can enjoy your chosen menu with your feet in the sand and in the autumn with your family and friends at the fireplace.
We also serve drinks for all tastes. Our bartender will make a great Gin Tonic or another delicious mixed drink for you. We also work with a wide selection of wines, not only serving classic French and Italian wines, but also wines from the New World. Our big tin bowls with ice cold beers and wines will be the entire evening at your service.

Hippie Fish Zandvoort – Unique wedding at the Beach
Are you looking for an unique venue for a wedding at the beach? Our exclusive Beachhouse in Zandvoort is exactly what you're looking for! Slow down – stay a while.